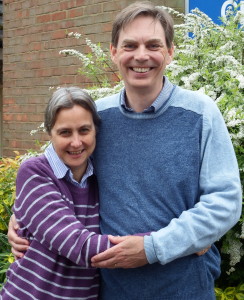 Chris is married to Lynne.  They were called to Burwell Baptist Church in 2015 from Hoddesdon, Hertfordshire, where Chris served as Pastor for five years.  Prior to that he was a Pastor in Barrow on Soar, Leicestershire where they lived for 20 years.  Chris trained for ministry at Regents Park College in Oxford and was ordained in 2003.  He previously worked in Pharmaceutical research as an Analytical Chemist.
Chris became a Christian whilst studying Chemistry at the University of Surrey.  He has never lost his love of science and encourages a greater understanding of issues around science and faith.  Since arriving he has encouraged the church to eagerly desire spiritual gifts and follow the way of love.
In addition to preaching and pastoral care, Chris offers prayer ministry support to the congregation.
Click to listen to a previous sermon.
Lynne became a Christian at Girls Brigade Camp.  She studied Mathmatics at the University of Surrey and served in the Christian Union there.  She has a ministry in leading worship and trained at Cliff College in Derbyshire.  She works closely with Chris in leadership and pastoral care.