We are a group of ordinary people who love and believe in our Lord Jesus Christ and try to follow his teaching and example in all that we do.
We consist of a wide range of different people from all ages and different backgrounds. We have young families right up to more elderly members in their 90's.
For directions to reach us please see the Contact Us page.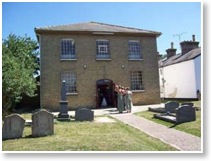 If it's your first visit then it's probably best to turn up around 10.20am for a morning service. If you are driving you can park on the road either in Silver Street or North Street – the church does not have its own car park.  When you arrive, come to the North Street entrance to get into the main church building (the old part, rather than the more modern extension). You'll be greeted on the door and helped to find a seat if you need assistance.
Do you have disabled access?

Our church building is accessible for those in wheelchairs, with ramps and disabled toilets. If you need to bring a car right up to the church front door, then this is possible – we have a small turning area at the front of the church to help with this. The words for all our songs are projected onto the wall at the front of the church, but we also provide printed and large-print copies of words if you have a visual impairment – just ask as you come in. We do have a hearing loop system. All services are recorded and are made available online and CD for those unable to attend.
Both morning and evening services are quite relaxed and informal. If you don't understand anything please ask any one of us and we'll do our best to explain what's going on.
Our morning service starts at 10.30am. We use a mixture of traditional hymns and contemporary songs, led by members of our music group. We also have times of prayer, Bible readings and a talk based on a passage from the Bible.
Children and teenagers stay with us for the first 30 minutes or so and then go to their own activities for the latter part of the service. There are groups for all ages and, whilst we are unable to offer a supervised creche, we do have a room with toys where parents can take their toddlers should it become necessary during the service.
Our service will normally finish between 11.30 and 12.00, and tea, coffee and biscuits are served after the service. Please do join us for refreshments so we can get to know each other.
Evening services, which we have twice a month, start at 6.30pm and tend to finish between 7.30 and 8.00pm. These are more informal and could be cafe style with drinks and biscuits or led by our young people.
We hope that all we do – the worship, prayer, talks, and the fellowship after the service – will help to draw everyone closer to God.
 There is no dress code – wear whatever you normally would.