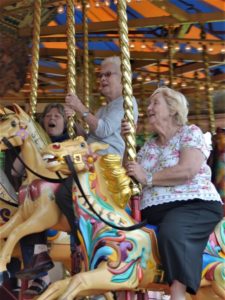 Holiday@Home started life as a summer activity for older people (60+).  We have a garden party with a strawberry tea, an outing, a fish chip lunch and lots of fun.  We round off with a Songs of Praise style service.  But it has grown.  We now organise other trips and events throughout the year.  So follow our facebook page and look out for advertising for events.
In 2019 we had a French theme.  More 'Allo 'Allo! than Linguaphone.  We enjoyed a Strawberry Tea, a Boat Trip, Fish and Chips and Songs of Praise.
We are currently planning our next events!